Formula challenge - build answer key for tests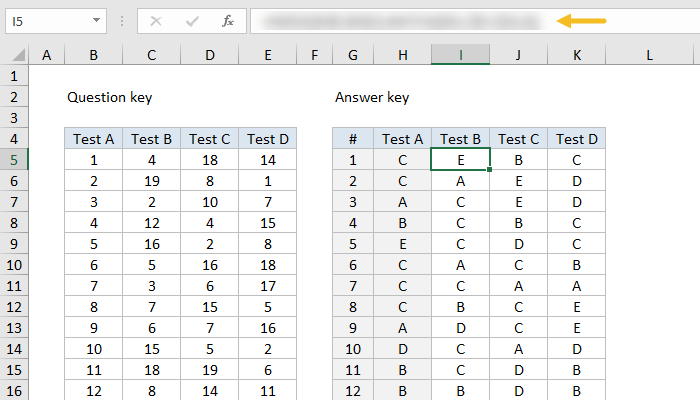 The problem
There is one master test (Test A), and three variants (Test B, Test C, and Test D). All 4 tests have the same 19 questions, but arranged in a different order.
The first table in the screen below is a "question key" and shows how questions in Test A are ordered in the other 3 tests. The second table is an "answer key" that shows the correct answers for all 19 questions in all tests.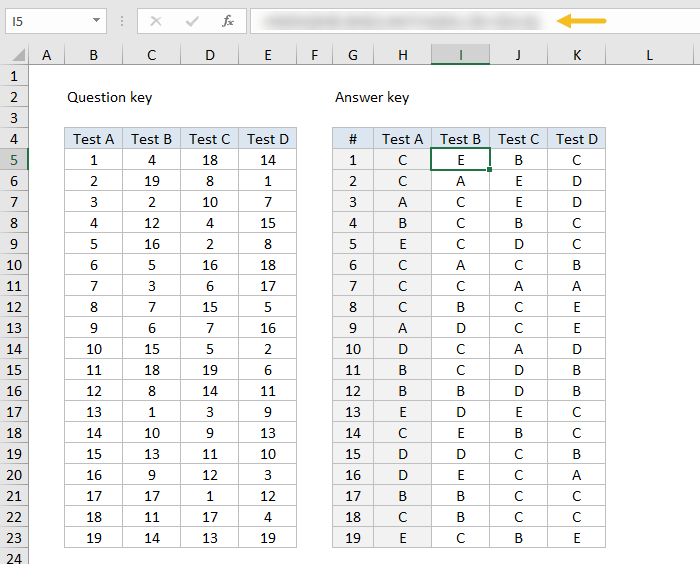 Above: Correct answers in I5:K23, formula obscured
For example, the answer to question #1 in Test A is C. This same question appears as question #4 in Test B, so the answer to question #4 in Test B is also C.
The first question in Test B is the same as question #13 in Test A, and the answer to both is E.
The challenge
What formula can be entered in I5 (that's an i as in "igloo") and copied across I5:K23 to find and display the correct answers for Tests B, C, and D?
You'll find the Excel file below. Leave your answer as a comment below.
Hints
This problem is challenging to set up. It's very easy to get confused. Remember, the numbers in C5:E23 only tell you where you can find a given question. You still have to find the question after that :)

This problem can be solved with INDEX and MATCH, which is

explained in this article

. Part of the solution involves carefully locking cell references. If you have trouble with these kind of references, practice building the

multiplication table shown here

. This problem requires carefully constructed cell references!

You might find yourself thinking you could do this faster manually. Yes, for a small number of questions. However, with more questions (imagine 100, 500, 1000 questions) the manual approach gets much harder. A good formula will happily handle thousands of questions, and it won't make mistakes :)
#evba #etipfree #eama #kingexcel
📤How to Download ebooks:
https://www.evba.info/2020/02/instructions-for-downloading-documents.html?m=1