Master Excel Dashboards in 1 Hour - Free Webinar
As organizations become increasingly data-driven, the ability to work with data isn't a bonus, it's essential.
Nowadays anyone working with data must be able to visualize it
.
So, to get you off to a head start I'm presenting a series of free webinars to teach and demonstrate dashboards and data visualization in both Excel and Power BI.
Book your webinar spot here
.
The webinars contain valuable content that you can use right away to build your own dashboards. Just look at the feedback I received from Kenneth:
"Since I watched your webinars on dashboards/power dashboards and started creating them for my leadership, doors have opened and now I'm looking at creating/leading a team of analysts! I am so thankful for the knowledge that you share!"
Kenneth
There are 3 webinars to choose from.
Webinar 1 - Excel Dashboard for Excel 2007 through 2019 and Office 365
The first webinar will teach you how to use Excel to build this interactive dashboard below, no additional software or add-ins required, just plain old Excel and some data.
Note: If the image below isn't animated please

click here

to read this in your browser.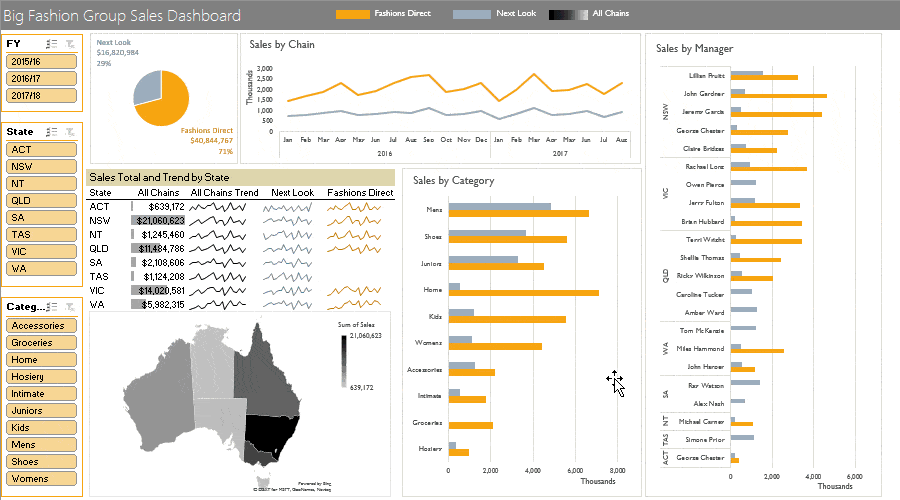 Many Excel users will already have the skills to build this dashboard
, and seeing me put them together will be exciting and inspiring when you realize how quickly you can get up and running with Excel dashboards.
Webinar 2 - Excel Dashboard for Excel 2010 through 2019 and Office 365 using Power Query and Power Pivot
Excel is continuously evolving; additions like Power Query and Power Pivot have transformed the way we work in Excel.
Embracing these new tools will not only enable you to get your work done more quickly, but you'll also have a huge competitive edge in the workplace because less than 1% of Excel users have these skills.
It's easy to ignore these developments and continue doing things the way you always have, but that won't get you ahead in your career ...you know that, right?
If you have Excel 2010, 2013, 2016, 2019 or Office 365* then this webinar will showcase how you can use Excel's Power Query tool to get data from multiple sources, mash it up with Power Pivot, analyze it in PivotTables to create this interactive Excel Dashboard.
Note: If the image below isn't animated please

click here

to read this in your browser.
*Power Query is available with all versions of Excel 2010 to 2019 and Office 365. Power Pivot is available with Excel 2010 and 2019 or Excel 2013/2016 Office Professional and Office 365, or in the standalone editions of Excel 2013/2016. Power Query and Power Pivot are not available for Mac.
Webinar 3 - Power BI Dashboards
Until recently Excel was the go-to tool (for most of us) for building data visualizations like the Dashboards above. That said, now we also have a dedicated dashboard and data visualization tool from Microsoft in the form of Power BI that can build amazing interactive reports like these:
In fact, Power BI can visualize data in ways we can only dream about in Excel, with features like:
Interactive charts that allow users to cross highlight and filter by clicking on the bars/lines in the charts etc.
Allow users to drill down to lower levels and even underlying data (with your permission)
Power BI takes the hassle out of sharing dashboards, enabling us to easily share reports on any device
Clever algorithms scan your data and automatically highlight insights you may never discover on your own
Building Power BI dashboards is super-fast with drag and drop navigation
Updating Power BI dashboards is easy too. Simply schedule a refresh so your dashboards are always up to date
See for yourself with my
Power BI webinar
where I build the two dashboards shown above in under one hour.
So, will Power BI be the death of data visualization and dashboards in Excel?
Not necessarily. Excel is already on almost every PC around the world and the learning curve for Excel dashboards and data visualization is relatively shallow. Whereas Power BI has a steeper learning curve, plus there is an additional cost for certain features, like sharing.
Excel vs Power BI Pros and Cons
The table below compares key points between Excel and Power BI to help your decision-making process:
Who is Power BI for?
Power BI is for the Excel user who is ready for more. More features, because Power BI Dashboards can do things you simply can't do in Excel, and more skills to add to your résumé.
So, if you're wanting more interactivity from your dashboards and data visualizations and you're prepared to learn some new skills then check out Power BI.
What people are saying about the webinars
Over 35,000 people have attended my webinars and this is what some of them had to say:
"Thank you! This webinar has already saved tremendous time and effort. I tried some of the techniques you illustrated for a cumbersome report update that I can see will cut our preparation time by 2/3's or more. ....awesome! Many thanks!!!!" Cynthia Tashjian
"WOW, just WOW Can't type more now - am trying to create a dashboard. Thank you Mynda!" Susan
"The webinar was fantastic! I really enjoyed every moment. As you said, it was fast paced, but I am so excited to go back and review the presentation. We have been trying to get a dashboard started for my department and this really motivated me to take the lead. Thank you so much!" Kathryn Puskar
"Oh. My. God. I know nothing! My jaw dropped a couple of times as you casually mentioned a way to manipulate PivotTable data. That's the problem with being largely self-taught - there are huge gaps in my knowledge." Ann
"I presented my first dashboard to the CEO yesterday and he was ecstatic. Since we are downsizing I was very worried about my job, but after seeing his reaction...I understand that my job is secure (for now). Thanks!" Iris Stein
Invite a Friend
Feel free to forward this email to your friends and colleagues and invite them to attend my
free Dashboard webinars
. They'll thank you for it.
Webinar Prerequisites
All you need is an internet connection, a web browser and speakers or headphones.
You don't need Power BI or Excel to attend the webinars.
#evba #etipfree #eama #kingexcel
📤How to Download ebooks:
https://www.evba.info/2020/02/instructions-for-downloading-documents.html?m=1