The Cell Color Assistant add-in for Microsoft Excel helps you color cells quickly and easily and to select cells based on cell format. It is compatible with Microsoft Excel 2007 to 2019. When installed, it is added to the following ribbon tab:

Clicking on the Cell Color Assistant button displays the following dropdown menu: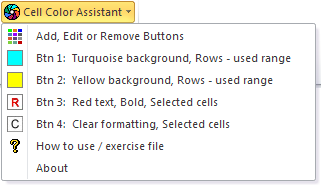 One can add up to 20 customized buttons. When you click on a button, the selected cells are formatted the way you want.
#evba #etipfree #kingexcel