Free Download 30 Nonfiction Books That Are Sure to Make You Smarter 2020
DOWNLOAD
Summer is the perfect time to relax with a book, so why not choose one that will stretch your mind? This roundup of books that make you smarter has something for every type of curious mind, with subjects ranging from world maps to memory tricks to the odd wonders of the human digestive system. Check out our list of nonfiction books to make you smarter below, complete with publishers' descriptions.
Moonwalking with Einstein

by Joshua Foer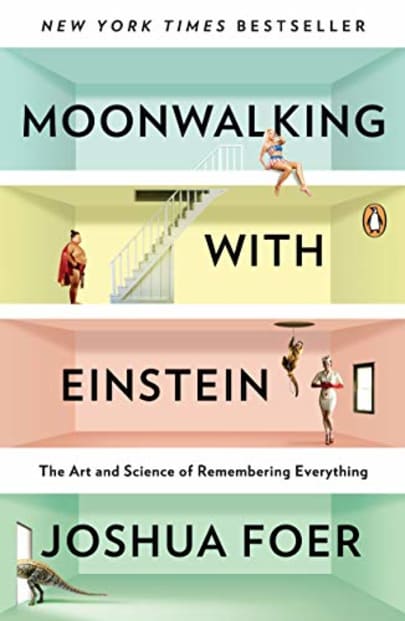 The blockbuster phenomenon that charts an amazing journey of the mind while revolutionizing our concept of memory
An instant bestseller that is poised to become a classic, Moonwalking with Einstein recounts Joshua Foer's yearlong quest to improve his memory under the tutelage of top "mental athletes." He draws on cutting-edge research, a surprising cultural history of remembering, and venerable tricks of the mentalist's trade to transform our understanding of human memory. From the United States Memory Championship to deep within the author's own mind, this is an electrifying work of journalism that reminds us that, in every way that matters, we are the sum of our memories.
The Sixth Extinction

by Elizabeth Kolbert
A major book about the future of the world, blending intellectual and natural history and field reporting into a powerful account of the mass extinction unfolding before our eyes
Over the last half a billion years, there have been five mass extinctions, when the diversity of life on earth suddenly and dramatically contracted. Scientists around the world are currently monitoring the sixth extinction, predicted to be the most devastating extinction event since the asteroid impact that wiped out the dinosaurs. This time around, the cataclysm is us. In The Sixth Extinction, two-time winner of the National Magazine Award and New Yorker writer Elizabeth Kolbert draws on the work of scores of researchers in half a dozen disciplines, accompanying many of them into the field: geologists who study deep ocean cores, botanists who follow the tree line as it climbs up the Andes, marine biologists who dive off the Great Barrier Reef. She introduces us to a dozen species, some already gone, others facing extinction, including the Panamian golden frog, staghorn coral, the great auk, and the Sumatran rhino. Through these stories, Kolbert provides a moving account of the disappearances occurring all around us and traces the evolution of extinction as concept, from its first articulation by Georges Cuvier in revolutionary Paris up through the present day. The sixth extinction is likely to be mankind's most lasting legacy; as Kolbert observes, it compels us to rethink the fundamental question of what it means to be human.
A Brief History of Time

by Stephen Hawking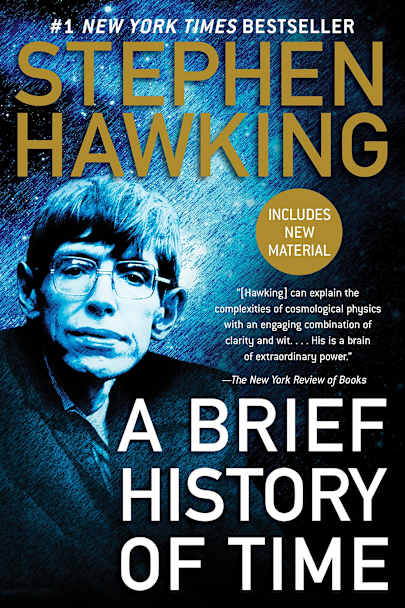 A landmark volume in science writing by one of the great minds of our time, Stephen Hawking's book explores such profound questions as: How did the universe begin — and what made its start possible? Does time always flow forward? Is the universe unending — or are there boundaries? Are there other dimensions in space? What will happen when it all ends?
Told in language we all can understand, A Brief History of Time plunges into the exotic realms of black holes and quarks, of antimatter and "arrows of time," of the big bang and a bigger God — where the possibilities are wondrous and unexpected. With exciting images and profound imagination, Stephen Hawking brings us closer to the ultimate secrets at the very heart of creation.
What If?

by Randall Munroe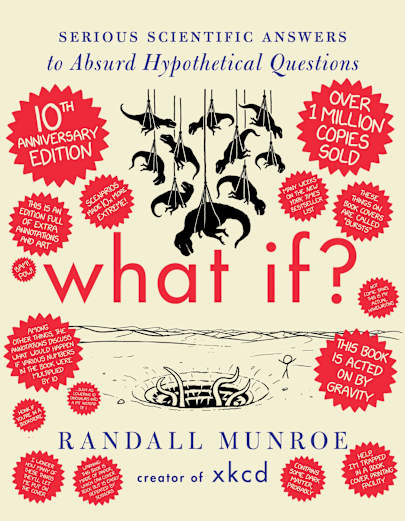 From the creator of the wildly popular webcomic
xkcd,
hilarious and informative answers to important questions you probably never thought to ask
Millions of people visit xkcd.com each week to read Randall Munroe's iconic webcomic. His stick-figure drawings about science, technology, language, and love have an enormous, dedicated following, as do his deeply researched answers to his fans' strangest questions.
The queries he receives range from merely odd to downright diabolical:
• What if I took a swim in a spent-nuclear-fuel pool?
• Could you build a jetpack using downward-firing machine guns?
• What if a Richter 15 earthquake hit New York City?
• Are fire tornadoes possible?
His responses are masterpieces of clarity and wit, gleefully and accurately explaining everything from the relativistic effects of a baseball pitched at near the speed of light to the many horrible ways you could die while building a periodic table out of all the actual elements.
The book features new and never-before-answered questions, along with the most popular answers from the xkcd website. What If? is an informative feast for xkcd fans and anyone who loves to ponder the hypothetical.
Stamped from the Beginning

by Ibram X. Kendi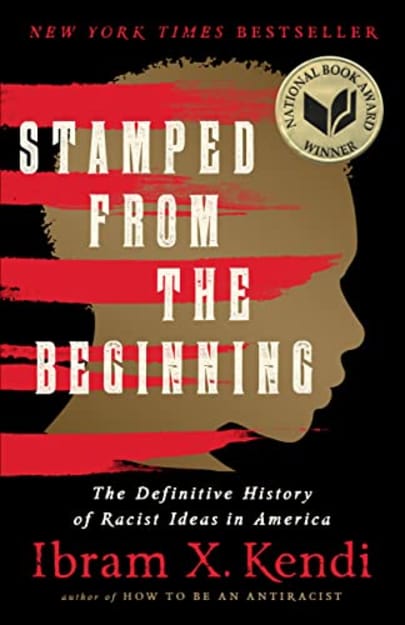 Some Americans cling desperately to the myth that we are living in a post-racial society, that the election of the first Black president spelled the doom of racism. In fact, racist thought is alive and well in America — more sophisticated and more insidious than ever. And as award-winning historian Ibram X. Kendi argues in
Stamped from the Beginning
, if we have any hope of grappling with this stark reality, we must first understand how racist ideas were developed, disseminated, and enshrined in American society.
In this deeply researched and fast-moving narrative, Kendi chronicles the entire story of anti-Black racist ideas and their staggering power over the course of American history. Stamped from the Beginning uses the life stories of five major American intellectuals to offer a window into the contentious debates between assimilationists and segregationists and between racists and antiracists. From Puritan minister Cotton Mather to Thomas Jefferson, from fiery abolitionist William Lloyd Garrison to brilliant scholar W.E.B. Du Bois to legendary anti-prison activist Angela Davis, Kendi shows how and why some of our leading proslavery and pro-civil rights thinkers have challenged or helped cement racist ideas in America.
Contrary to popular conceptions, racist ideas did not arise from ignorance or hatred. Instead, they were devised and honed by some of the most brilliant minds of each era. These intellectuals used their brilliance to justify and rationalize deeply entrenched discriminatory policies and the nation's racial disparities in everything from wealth to health. And while racist ideas are easily produced and easily consumed, they can also be discredited. In shedding much-needed light on the murky history of racist ideas, Stamped from the Beginning offers us the tools we need to expose them–and in the process, gives us reason to hope.
What You Should Know About Politics… But Don't

by Jessamyn Conrad
This is an essential volume for understanding the background to the 2016 presidential election. But it is also a book that transcends the season. It's truly for anyone who wants to know more about the issues, which are perennial issues that will continue to affect our everyday lives.
Astrophysics for People in a Hurry

by Neil DeGrasse Tyson
The essential universe, from our most celebrated and beloved astrophysicist.
What is the nature of space and time? How do we fit within the universe? How does the universe fit within us? There's no better guide through these mind-expanding questions than acclaimed astrophysicist and best-selling author Neil deGrasse Tyson.
But today, few of us have time to contemplate the cosmos. So Tyson brings the universe down to Earth succinctly and clearly, with sparkling wit, in tasty chapters consumable anytime and anywhere in your busy day.
Other Minds

by Peter Godfrey-Smith
But what kind of intelligence do cephalopods possess? Drawing on the latest scientific research and his own scuba-diving adventures, Godfrey-Smith probes the many mysteries that surround the lineage. How did the octopus, a solitary creature with little social life, become so smart? What is it like to have eight tentacles that are so packed with neurons that they virtually "think for themselves"? What happens when some octopuses abandon their hermit-like ways and congregate, as they do in a unique location off the coast of Australia?
By tracing the question of inner life back to its roots and comparing human beings with our most remarkable animal relatives, Godfrey-Smith casts crucial new light on the octopus mind — and on our own.
Think Like a Freak

by Steven D. Levitt and Stephen J. Dubner
Levitt and Dubner offer a blueprint for an entirely new way to solve problems, whether your interest lies in minor lifehacks or major global reforms. As always, no topic is off-limits. They range from business to philanthropy to sports to politics, all with the goal of retraining your brain. Along the way, you'll learn the secrets of a Japanese hot-dog-eating champion, the reason an Australian doctor swallowed a batch of dangerous bacteria, and why Nigerian e-mail scammers make a point of saying they're from Nigeria.
Some of the steps toward thinking like a Freak:
• First, put away your moral compass — because it's hard to see a problem clearly if you've already decided what to do about it.
• Learn to say "I don't know" — for until you can admit what you don't yet know, it's virtually impossible to learn what you need to.
• Think like a child — because you'll come up with better ideas and ask better questions.
• Take a master class in incentives — because for better or worse, incentives rule our world.
• Learn to persuade people who don't want to be persuaded — because being right is rarely enough to carry the day.
• Learn to appreciate the upside of quitting — because you can't solve tomorrow's problem if you aren't willing to abandon today's dud.
Levitt and Dubner plainly see the world like no one else. Now you can too. Never before have such iconoclastic thinkers been so revealing — and so much fun to read.
Consider the Fork

by Bee Wilson
Sapiens

by Yuval Noah Harari
From a renowned historian comes a groundbreaking narrative of humanity's creation and evolution — a #1 international bestseller — that explores the ways in which biology and history have defined us and enhanced our understanding of what it means to be "human."
One hundred thousand years ago, at least six different species of humans inhabited Earth. Yet today there is only one — homo sapiens. What happened to the others? And what may happen to us?
Dr. Harari also compels us to look ahead, because over the last few decades humans have begun to bend laws of natural selection that have governed life for the past four billion years. We are acquiring the ability to design not only the world around us, but also ourselves. Where is this leading us, and what do we want to become?
Featuring 27 photographs, 6 maps, and 25 illustrations/diagrams, this provocative and insightful work is sure to spark debate and is essential reading for aficionados of Jared Diamond, James Gleick, Matt Ridley, Robert Wright, and Sharon Moalem.
Eats, Shoots & Leaves

by Lynne Truss
Thinking, Fast and Slow

by Dan Kahneman
Hidden Figures

by Margot Lee Shetterly
Before John Glenn orbited the earth, or Neil Armstrong walked on the moon, a group of dedicated female mathematicians known as "human computers" used pencils, slide rules and adding machines to calculate the numbers that would launch rockets, and astronauts, into space.
Among these problem-solvers were a group of exceptionally talented African American women, some of the brightest minds of their generation. Originally relegated to teaching math in the South's segregated public schools, they were called into service during the labor shortages of World War II, when America's aeronautics industry was in dire need of anyone who had the right stuff. Suddenly, these overlooked math whizzes had a shot at jobs worthy of their skills, and they answered Uncle Sam's call, moving to Hampton, Virginia and the fascinating, high-energy world of the Langley Memorial Aeronautical Laboratory.
Even as Virginia's Jim Crow laws required them to be segregated from their white counterparts, the women of Langley's all-black "West Computing" group helped America achieve one of the things it desired most: a decisive victory over the Soviet Union in the Cold War, and complete domination of the heavens.
The Man Who Mistook His Wife for a Hat

by Oliver Sacks
Dr. Sacks treats each of his subjects — the amnesic fifty-year-old man who believes himself to be a young sailor in the Navy, the "disembodied" woman whose limbs have become alien to her, and of course the famous man who mistook his wife for a hat — with a deep respect for the unique individual living beneath the disorder. These tales inspire awe and empathy, allowing the reader to enter the uncanny worlds of those with autism, Alzheimer's, Tourette's syndrome, and other unfathomable neurological conditions.
Stuff Matters

by Mark Miodownik
A Mind for Numbers

by Barbara Oakley
The Power of Habit

by Charles Duhigg
The Omnivore's Dilemma

by Michael Pollan
The Future of the Mind

by Michio Kaku
The Signal and the Noise

by Nate Silver
Drawing on his own groundbreaking work, Silver examines the world of prediction, investigating how we can distinguish a true signal from a universe of noisy data. Most predictions fail, often at great cost to society, because most of us have a poor understanding of probability and uncertainty. Both experts and laypeople mistake more confident predictions for more accurate ones. But overconfidence is often the reason for failure. If our appreciation of uncertainty improves, our predictions can get better too. This is the "prediction paradox": The more humility we have about our ability to make predictions, the more successful we can be in planning for the future.
In keeping with his own aim to seek truth from data, Silver visits the most successful forecasters in a range of areas, from hurricanes to baseball, from the poker table to the stock market, from Capitol Hill to the NBA. He explains and evaluates how these forecasters think and what bonds they share. What lies behind their success? Are they good — or just lucky? What patterns have they unraveled? And are their forecasts really right? He explores unanticipated commonalities and exposes unexpected juxtapositions. And sometimes, it is not so much how good a prediction is in an absolute sense that matters but how good it is relative to the competition. In other cases, prediction is still a very rudimentary — and dangerous — science.
Silver observes that the most accurate forecasters tend to have a superior command of probability, and they tend to be both humble and hardworking. They distinguish the predictable from the unpredictable, and they notice a thousand little details that lead them closer to the truth. Because of their appreciation of probability, they can distinguish the signal from the noise.
With everything from the health of the global economy to our ability to fight terrorism dependent on the quality of our predictions, Nate Silver's insights are an essential read.
Mindset

by Carol S. Dweck
In this edition, Dweck offers new insights into her now famous and broadly embraced concept. She introduces a phenomenon she calls false growth mindset and guides people toward adopting a deeper, truer growth mindset. She also expands the mindset concept beyond the individual, applying it to the cultures of groups and organizations. With the right mindset, you can motivate those you lead, teach, and love — to transform their lives and your own.
Are We Smart Enough to Know How Smart Animals Are?

by Frans de Waal
This is Your Brain on Music

by Daniel J. Levitin
Taking on prominent thinkers who argue that music is nothing more than an evolutionary accident, Levitin poses that music is fundamental to our species, perhaps even more so than language. Drawing on the latest research and on musical examples ranging from Mozart to Duke Ellington to Van Halen, he reveals:
Gulp

by Mary Roach
Atlas Obscura

by Joshua Foer, Dylan Thuras, and Ella Morton
Talk about a bucket list: here are natural wonders — the dazzling glowworm caves in New Zealand, or a baobob tree in South Africa that's so large it has a pub inside where 15 people can drink comfortably. Architectural marvels, including the M.C. Escher-like stepwells in India. Mind-boggling events, like the Baby Jumping Festival in Spain, where men dressed as devils literally vault over rows of squirming infants. Not to mention the Great Stalacpipe Organ in Virginia, Turkmenistan's 40-year hole of fire called the Gates of Hell, a graveyard for decommissioned ships on the coast of Bangladesh, eccentric bone museums in Italy, or a weather-forecasting invention that was powered by leeches, still on display in Devon, England.
Prisoners of Geography

by Tim Marshall
Being Wrong

by Kathryn Schulz
The Emperor of All Maladies

by Siddhartha Mukherjee
Physician, researcher, and award-winning science writer, Siddhartha Mukherjee examines cancer with a cellular biologist's precision, a historian's perspective, and a biographer's passion. The result is an astonishingly lucid and eloquent chronicle of a disease humans have lived with — and perished from — for more than five thousand years.
The story of cancer is a story of human ingenuity, resilience, and perseverance, but also of hubris, paternalism, and misperception. Mukherjee recounts centuries of discoveries, setbacks, victories, and deaths, told through the eyes of his predecessors and peers, training their wits against an infinitely resourceful adversary that, just three decades ago, was thought to be easily vanquished in an all-out "war against cancer." The book reads like a literary thriller with cancer as the protagonist.
Guns, Germs, and Steel

by Jared Diamond
#evba #etipfree #eama #kingexcel
📤How to Download ebooks:
https://www.evba.info/2020/02/instructions-for-downloading-documents.html?m=1